It seems that everywhere you search, people just tell you not to solo mine.  Ignore these people and continue with this guide on how to start solo!  Join mining groups when you are comfortable.
Begin your visit to https://litecoin.org/ and download Litecoin-Qt.
The steps here are self-explanatory, pick a download suited to your operating system.
Run the setup
If prompted, allow Litecoin-Qt access to your network (at your own risk).
If prompted, allow Litecoin-Qt access to your network (at your own risk).
Wait for the network synchronization.  This can take around 6 hours
Meanwhile, check out your wallet in the Receive tab
Right-click your label and go to Edit to rename.
Feel free to donate to LNqdKwN4hAdReq4oWfbnsx114VyexJJZC8 for this tutorial!
After 4.5 hours…
After 5 hours, syncing completed.
Time to mine for Litecoins.  Go to http://guiminer.org/guiminer-scrypt.html (the same one in my Bitcoin tutorial).
Download guiminer-scrypt_win32_binaries_v0.04.zip (or whatever version is out now) and extract it somewhere.
Run guiminer.exe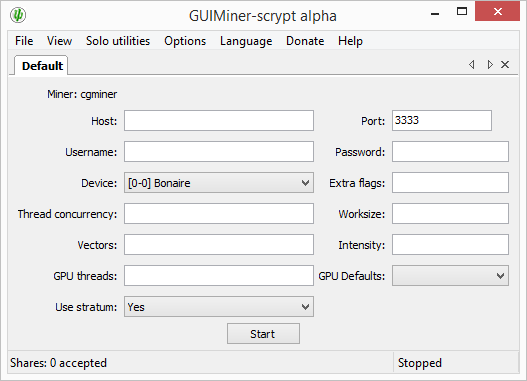 Go to File > New Miner > New CG Miner (CUDA miner if you want to use an nVIDIA graphics card).
Give your miner a name.  In this case, Datacrunch Canada is used.
Create a new solo username and password.
If you used GUIMiner before for Bitcoin mining, change the Bitcoin client path to point to Litecoin instead.
The Litecoin path should be C:\Program Files (x86)\Litecoin\litecoin-qt.exe or somewhere similar.
Next, set your Litecoin data directory.

Use C:\Users\[Username]\AppData\Roaming\Litecoin for your directory.
I have a 7790, thus Bonaire is listed.  Let's mine with a GPU to see what happens.  Since 7790 isn't on the list, I selected 7770, which is close enough.
* I guess medium intensity is 15 – 17…but anyway, notice the message on the status bar*
No servers could be used?  No problem!  Tweak you litecoin.conf file found here:
C:\Users\[Username]\AppData\Roaming\Litecoin
Next, Launch Bitcoin client as a server.
Wait for active connections on the Litecoin Network.
If you get a hash rate on the bottom right of the GUIMiner, you're all set!
Internet activity gets interesting…
For a Radeon HD 7790, some users are reporting 230 khash/sto 270 khash/s. If your rates are low, try using different graphics drivers (or beta drivers) to see if it ¡mproves your rates. Also, you can try overclocking your graphics card. The latest drivers are proabaly not the best for Litecoin mining.
Good luck mining!