Are you feeling bored these days? Is the emotion of ennui disheartening you? Does it seem like the lockdown is never-ending, exhausting all your options? You are certainly not alone. The current global pandemic is unprecedented in its nature, and our species doesn't exactly know how to cope with this new 'normal'.
Notions of guilt and hopelessness are surely common during these times. It is, however, helpful to remember that humans have faced bigger adversities than this, and have evolved from ancestors who have overcome far greater difficulties. As more and more stories of listlessness and obstacles pour in, tales of heroism and innovation stack up as well.
The key to upending negative notions is to perceive the situation as an opportunity, however bizarre that may sound, rather than as a global catastrophe. Such a romantic view isn't entirely deceiving oneself as well. Yes, there is no denying that there have been many job losses and deaths. The global economy is at one of its worst in years, and there has also been a significant rise in the number of people battling mental issues.
On the other hand, the world has rallied, thus united, behind a common enemy, and various examples of human ingenuity and goodness have been on display.
There are several options to take advantage of during these times. Several high-profile plays (including The Phantom of the Opera and Cats) were live-streamed on YouTube for free. The official FIFA channel is re-telecasting full classic World Cup matches of the past, many public libraries (including the Toronto Public Library) have made their resources (books, movies, music etc.) available online for us, numerous free courses are being offered by renowned universities for people to keep learning, several art museums (including the Louvre) are now accessible virtually from our own phones for free, and many more.
Streaming giants like Netflix and Amazon have also been seeing higher volumes of users during the lockdown. It's clear that the demand for good quality content remains extremely high, even if the entertainment industry is temporarily shut down.
The lockdown presents unique opportunities for artists as well, with plenty of interesting stories unraveling in front of us. With many film festivals being held exclusively online this year, a lot of them have also formed separate categories for films exclusively made during the quarantine period. Although this category may seem like an invitation for mediocrity, it doesn't have to be. There are still plenty of tools out there for filmmakers to tell the stories that they want told, and to produce good pieces of art.
This is exactly how a group of film lovers from Toronto thought when they made their short film, The InTEXTigator, exclusively during the lockdown.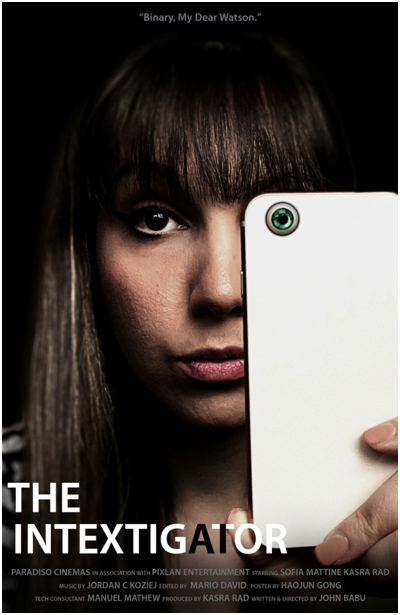 The InTEXTigator can now be viewed on YouTube
Writer-Director John Babu, a York University alumnus, had always experimented with low-budget filmmaking. His previous short film A Candle in the Dark (2018) had even been nominated for a few film festivals. The 2020 global lockdown, however, posed its own set of challenges.
"I had the general idea for The InTEXTigator a few months before the shutdown began," says Babu. "When every country began closing down, I realized that it would be the perfect time to make this project."
Babu used various social media platforms to this end. "There were a lot of people around the world that were bored and had nothing to do. Since we are in 2020, the technology available to us does not make us completely 'locked out', unlike previous pandemics in history. Even during social distancing, we can still reach out to anyone around the world, with the touch of a button."
Although he scouted far and wide for his cast, he ironically found his perfect lead in fellow York alumna Sofia Mattine, through a global Facebook group. Having some experience in modeling/acting, Mattine was immediately fascinated by the project. "When I was first approached to be in the film, it made me excited to be able to be creative during a very difficult time in the world. The project also appealed to me because the premise had a strong focus on technology, something we're all relying on now more than ever for connection", Mattine explains. This exploration of the potential scopes of technology resonated with the theme of the film as well.
Top row: Writer/Director John Babu and Editor Mario David. Bottom row: Actress Sofia Mattine and Composer Jordan Koziej. These individuals never met during the making of The InTEXTigator.
The InTEXTigator is a sci-fi thriller that proceeds through a text conversation that happens between Elizabeth Brown, a grieving widow, and the newest recruit of the Toronto Police, Sherlock the AI. It is best seen in portrait mode on a phone screen, as it is shot in vertical format to resemble an actual phone screen conversation to put the viewer in the middle of the action.
As the film unfolds, we experience the narrative's twists and turns in Elizabeth's shoes, up until its riveting climax. With the clever premise of (wo)man working with machine to unravel the truth, the film also covertly addresses some deep philosophical questions: How much power should we give machines? Are there any areas where automation should be excluded from? Will the benefits of using such gizmos outweigh the can of worms that it will inevitably open?
"What is scary about the concept is that it isn't a stretch to believe that such a scenario can indeed happen, a lot sooner than when a lot of people may think as well," says Manuel Mathew, the tech consultant for the film. Although views might notice elements from 1984 emanating from The InTEXTigator, the film also makes it a point to highlight the pros of technology, and show that the future doesn't necessarily have to be bleak. Artificial intelligence is a fast-growing field, and it is soon expected to automate many areas, increasing its efficiency.
With many groups, including the Toronto Police, actively researching the possibilities of such technology, the film may offer a glimpse into our immediate future. With the current lockdown rules that limit physical interactions, its makers may already have gotten a taste of such a future.
"There are, of course, advantages in collaborating virtually like what we did, using Zoom meetings and text messages to communicate ideas," says Babu. "However, for one solution that it brought, it created another problem. Without physically meeting others, it just wasn't the same. There is a reason why the old fashioned ways have worked for so long."
The inefficiency of working on the project exclusively through Zoom's screen-sharing feature stretched editor Mario David as well. Although he had plenty of hands-on editing experience working for various news channels, remote editing with Zoom was new for him as well. "It was frustrating at times as sometimes, the internet connection was down, sometimes the laptop was lagging. Since I'm not in Canada, we also had to work at atypical times due to the time-zone difference. However, it was still hugely satisfying to see the film coming together, one way or another", explains David.
All the hard work from Babu and his team was rewarded, as overwhelmingly positive responses have been pouring in for the film. "Cerebral, succinctly scripted for the plot. Razor sharp in its story arc…[The film] really nails the terror one would feel from a complete AI-induced molestation of privacies and personal sovereignties… marvelously executed to penetrate deep on a human level", a viewer commented. "It is a very innovative concept for a movie", "Very unique way to tell a story", several others pointed out. The film's visual style and composer Jordan Koziej's melodic score also came in for high praise. "When I read the script, I automatically knew what kind of sound was needed for this film and created a few cues for it. It was a challenging film to make music for, as there were no on-screen actors, dialogues or scenes", explains Koziej.
So what's next for his team?
"People are curious to see more of Sherlock. With the lockdown set to continue for a while, I've already started making a sequel," explains Babu. The InTEXTigator 2: A Study in Samples is expected to release August 2020, and continues Sherlock's saga of fighting crime in Toronto, all through 'texts'.
They say necessity is the mother of invention. With the world looking so unfamiliar day by day, perhaps it is a fertile land for innovations now more than ever. With plenty of resources and tools available, and numerous examples around us to inspire, perhaps it may finally be time to finish that song you always wanted to write, or learn a new language, or write that book like you had planned.
Perhaps the universe is conspiring for you after all.
Note – A version of this article, written by Kristian Mitsku, first appeared in Undivided Magazine.